Why Choose Smart ATO micro ?
Smart ATO micro is a super compact Auto Top Off system. With a unique penny-sized optical sensor, it has no moving parts that can fail. Magnetically-coupled sensor makes it so easy to adjust to the desired water level. This ATO is also integrated with QST (Quick Security Technology), which provides real-time fail safe protection against any failure and detects water empty.
Model: SATO-120P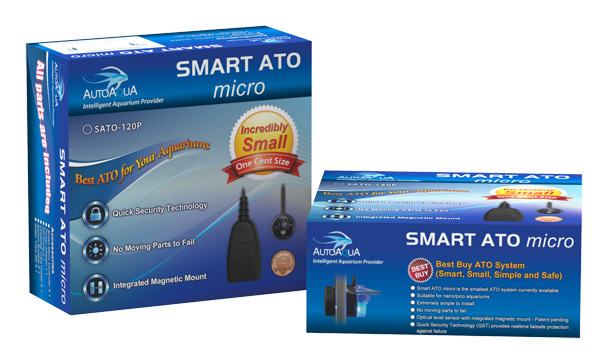 Features:
Smart ATO micro is the smallest ATO system currently available
Suitable for nano / pico aquariums
Extremely simple to install
No moving parts to fail
Optical level sensor with integrated magnetic mount
QST (Quick Security Technology) provides real-time failsafe protection against failure
Everything you need is included
Includes:
Smart Micro Controller x 1
Power Adapter x 1
DC Refill Pump x 1
Universal Tube Holder x 1
Siphon Break x 1
Tubing 6.5 ft (200 cm) x 1
Specifications:
Power Input : 100-240 VAC, 50-60 Hz
Cable Length of Power Adapter: 6 ft (180 cm)
DC Pump :

Head : 8.2 ft (250 cm)
Flow Rate : 74 gph (280 lph)

Max Mounting Thickness : 1/2 inch (12.7 mm)
Power : 4.5 W @ DC 12 V
Pump Cord Length : 6 ft (180 cm)
Power Cord Length : 6 ft (180 cm)
Flexible Tubing Size : ID : 6.5 mm / OD : 9.0 mm
Length of Cable between Sensor and Controller : 4 ft (120 cm)
Installation Diagram: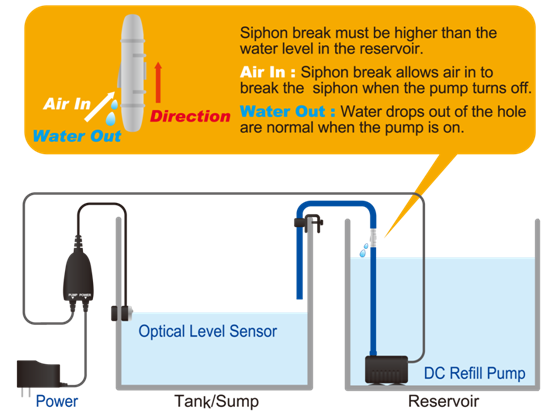 *Please avoid setting up the sensor in an area with micro bubbles or direct light.