Why Choose Smart AWC touch ?
Smart AWC touch is the most compact auto water change system. It uses two super tiny uniquely designed optical sensors that are suitable for both small and big tanks. Doing water change becomes so simple with Smart AWC touch. Magnetically-coupled sensor makes it so easy to adjust to the desired water level. Simply mount the two sensors on your tank, adjust their heights with the magnetic mounts and program desired auto water change process by the touch screen. You can even select AUTO mode to do water change automatically at desired frequency and speed. Integrated with QST (Quick Security Technology), which provides real-time fail safe protection against any failure and detects water empty. Best of all, it also has ATO function to maintain the water level and salinity.
Model: SAWC-200P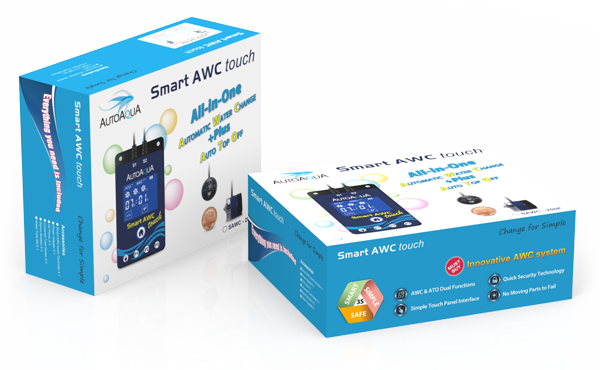 Features:
AWC&ATO dual functions
Simple touch panel interface
Optical level sensor with integrated magnetic mount
Extremely simple to install and maintain
No moving parts to fail
QST (Quick Security Technology) provides real-time failsafe protection against failure
Everything you need is included
Includes:
Smart AWC touch Controller x 1
Power Adapter x 1
DC Pump x 3
Universal Tube Holder x 3
Siphon Break x 3
Tubing 19.6 ft (600 cm) x 1
Specifications:
Power Input : 100-240 VAC, 50-60 Hz
Cable Length of Power Adapter: 6 ft (180 cm)
DC Pump :

Head : 8.2 ft (250 cm)
Flow Rate : 74 gph (280 lph)

Max Mounting Thickness : 1/2 inch (12.7 mm)
Power : 4.5 W @ DC 12 V
Pump Cord Length : 6 ft (180 cm)
Power Cord Length : 6 ft (180 cm)
Flexible Tubing Size : ID : 6.5 mm / OD : 9.0 mm
Length of Cable between Sensor and Controller : 10 ft (300 cm)
Installation Diagram: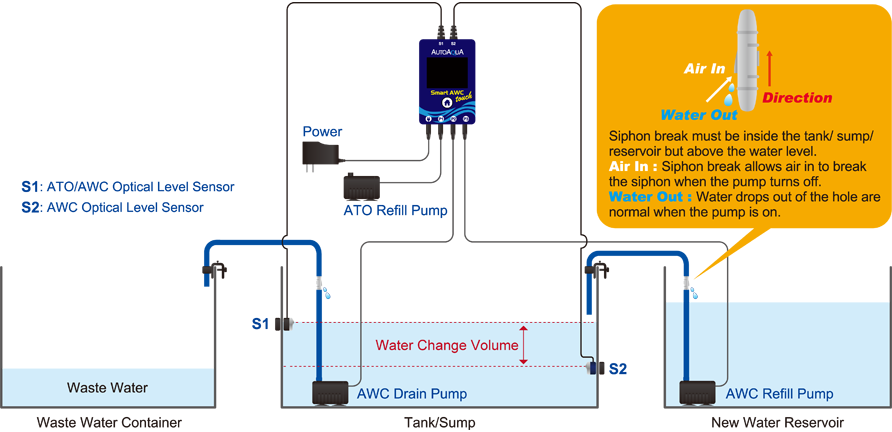 *Please avoid setting up the sensor in an area with micro bubbles or direct light.